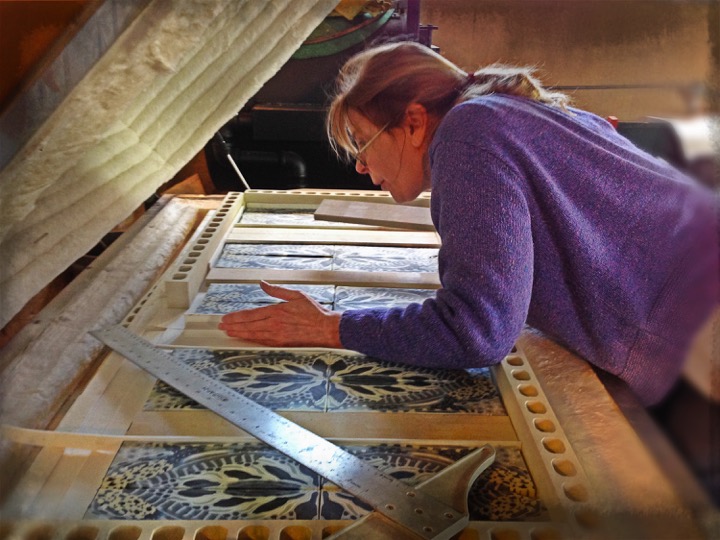 Martie Negri was a painter and fiber artist before transitioning to glass in 2001. Over the past 15 years she has been developing a contemporary form of millefiori that incorporates new technology with an ancient Italian technique that dates back to the 5th Century. She works out of her studio in Mamaroneck, NY and at UrbanGlass in Brooklyn, NY.
Her work has been in Bullseye Glass biennial exhibit Emerge 2006; was exhibited at SOFA New York and Chicago 2008 and again at SOFA Chicago 2009, SOFA New York 2010, SOFA Chicago 2011.
Martie's work has also been exhibited at Wheaton Cultural Arts Center's Glass Weekend in 2009, 2011, 2013 and again in 2015. She was one of ten artists recognized as "Best in Show" in 2009 BIGG: Breakthrough Ideas in Global Glass in Columbus Ohio. She's been included in New Glass Review 30, 32 and 36 and demonstrated her technique at The Glass Art Society Conference: Ingenious Possibilities in Louisville, 2010 and in 2017 at the Chrysler Museum of Art, Perry Glass Studio in Norfolk, VA.
Negri work was included in a two  group exhibitions celebrating 50 years of Studio Glass at Gallery North in Long Island and The Kentucky Museum of Contemporary Craft in Louisville. In summer 2012 she was a visiting artist at Pittsburgh Glass Center. Her series of work Thresholds was included in the Biennial show "Evolve" at Bullseye Gallery in Portland 2014 and was exhibited at The Bellevue Museum of Art in 2015. Last spring, 2017 Glass Wheel Studio in Norfolk Virginia hosted "ORGANICA" a retrospective of Negri's last decade of works in glass along with new works. This summer, 2018 she will be returning to Pittsburgh Glass Center to teach again.
Martie has attended the New York School of Interior Design; obtained a BA in Museum Studies from Salem College in West Virginia, and has an M.S. in Art Therapy from The College of New Rochelle in New York and is a New York State licensed Creative Arts Therapist and board certified by the Art Therapy Credentials Board.
Pin It